RuufPay, the leading non-custodial digital wallet provider, is excited to announce the launch of the Ethereum network in its popular RuufPay wallet. In addition to the already existing Polygon Network, users can now store, send, and receive Ethereum (ETH) and Ethereum-based tokens with the same security and convenience that RuufPay is known for.
"We are thrilled to offer our users the ability to manage their Ethereum assets in the RuufPay wallet," said CEO Isaac Ivgi. "This expansion further solidifies our commitment to providing a comprehensive and user-friendly platform for all types of digital assets."
The RuufPay wallet is renowned for its non-custodial nature, meaning that users are in complete control of their own assets and private keys. The wallet also boasts a user-friendly interface and advanced security features such as multi-factor authentication and token swap simplicity.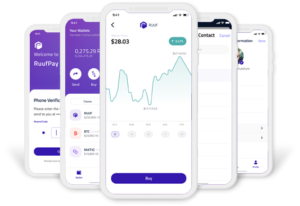 With the addition of the Ethereum network, RuufPay users can now take advantage of easily storing, swapping and managing thousands of ERC20 tokens on Ethereum. Additionally, RuufPay will be launching a highly capable onramp system, bringing instant funding for all users without having to wait for funds to settle from bank accounts as most exchanges require. The RuufPay team is committed to continuously expanding the capabilities of the wallet and providing users with the best possible experience.
"We are constantly seeking out new opportunities to enhance the RuufPay wallet and provide our users with the most diverse and secure platform possible," said Ivgi. "The Ethereum network is a natural fit for us and we are excited to see how our users will utilize it."
To learn more about RuufPay and the Ethereum network integration, visit https://ruufpay.app/.
Additionally, RuufPay is available for
About RuufPay:
RuufPay is a leading non-custodial digital wallet provider that allows users to store, send, and receive a variety of digital assets with advanced security features and a user-friendly interface. The company was founded in 2019 and has become a trusted provider for crypto enthusiasts. RuufPay is committed to continuously expanding its capabilities and providing the best possible experience for its users.